Le Château of Montreal launches initiatives to help women in need and young entrepreneurs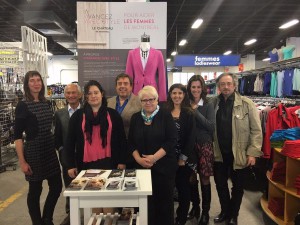 In an effort to help Montreal women in need get back on their feet, Le Château of Montreal has begun a new partnership named "Avancez avec style" with three Montreal Women's Charities that are well known for the range of programs they offer to get women on the path to security and independence. For many women in Montreal, these organizations are their only safe haven and the support offered by them is essential to their well-being.
Le Château is welcoming women from the West Island Women's Shelter (WIWS), Le Chaînon, and La Maison Bleue into their stores. These women will be offered exclusive vouchers, allowing them free-of-charge access to Le Château's latest products in hopes that this will boost their self-confidence and give them the extra motivation needed to move forward towards a better, brighter future Going Here.
Each month, Le Château personnel will meet four women from each of the charities in their stores, and provide them with personalized assistance. This is a continuation of the initiative Le Château started last Christmas and continuing into this year that saw the company deliver almost a quarter of a million dollars of clothes to nine community charities across the breadth of Montreal.
Le Château of Montreal also announced the launch of "LE CHÂTEAU… Suite." This initiative was created to nurture and encourage Montreal's wide range of design talent and entrepreneurship. The company has made a public atelier available for local talent to upcycle, repurpose and rethink Le Château products into one-of-a-kind designer pieces, while at the same time honing and strengthening the designer's own skills and networks.In March of this year, nine Montreal designers were chosen for the start of this project and were welcomed into their own atelier space provided by the company at 5255 Jean-Talon W.
Le Château has branded each participating designer and their capsule collections are now on sale at the atelier space. All portions of sales above and beyond the price of the original items go directly to the designer to encourage their reputations and business development.