Gala 2019
Friday, November 15 2019 at " Le Crystal "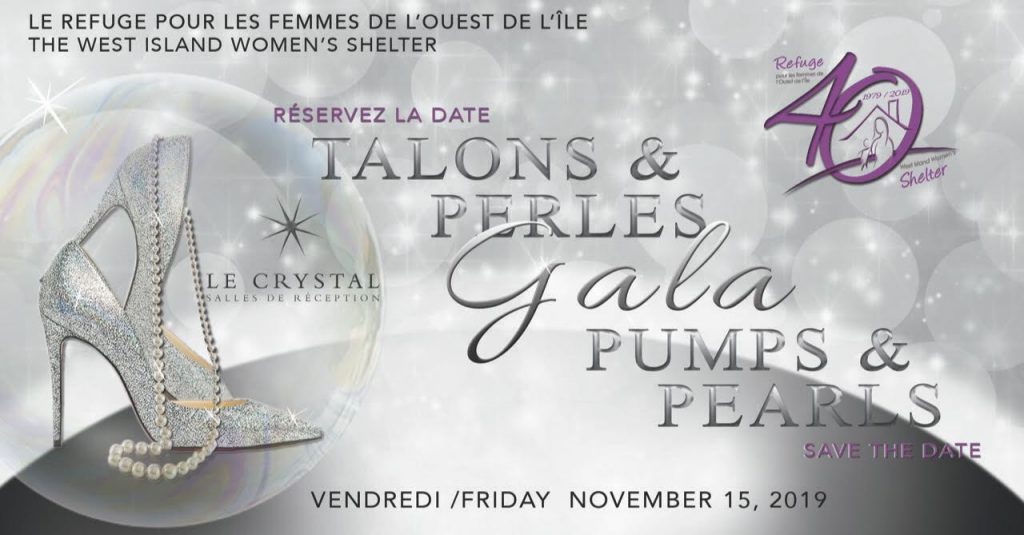 The proceeds from your attendance at our Gala will help us in our ongoing efforts in promoting our mission of
"Working towards a social change to eliminate conjugal violence and its impact on women and their children".
 AN EVENT NOT TO BE MISSED!
 Cocktails will be served at 6:00 pm, followed by a dinner at 7:30 pm and an evening of dancing. 
Entertainment and other pleasant surprises for our guests throughout the evening will create a truly memorable occasion. Reserve your tickets now as seating is limited!
We encourage you to contact Beverly Duffy-Zimmermann at 514.833.1294 or by email at wiws.shelter@gmail.com.
Should you not be able to participate in our evening you can still assist us in our fund raising by contributing as a Sponsor of the Pumps & Pearls 2019 Gala. Please consult the attached Sponsorship Program and Visibility Package for more information. Being a sponsor for this event is an excellent way to add your support for the protection of victimized women and children in our community.
The success of this event relies on the generosity of people like you. Your support is essential so that together we can fight to eliminate conjugal violence. We know that you care as much as we do. Your commitment and support is crucial for the continuance of the programs and services offered by the WEST ISLAND WOMEN'S SHELTER.
From the Board of Directors, employees, volunteers and most importantly, all of the women and children who will benefit from your kindness and generosity….
A very big THANK YOU!
Yours sincerely
——–
Cocktails 6pm
Dinner / Dance 7 30 pm
Live broadcast begins at 6 pm
Choice of main menu :
Meat
Fish
Vegetarian
With Jamie Orchard from Global TV News
Tax receipts available:
1 ticket = $ 250 = $ 100 receipt
1 table = $ 2500 = $ 1250 receipt
1 corporate table = $ 5000 = $ 3500 receipt
For more information: wiws.shelter@gmail.com